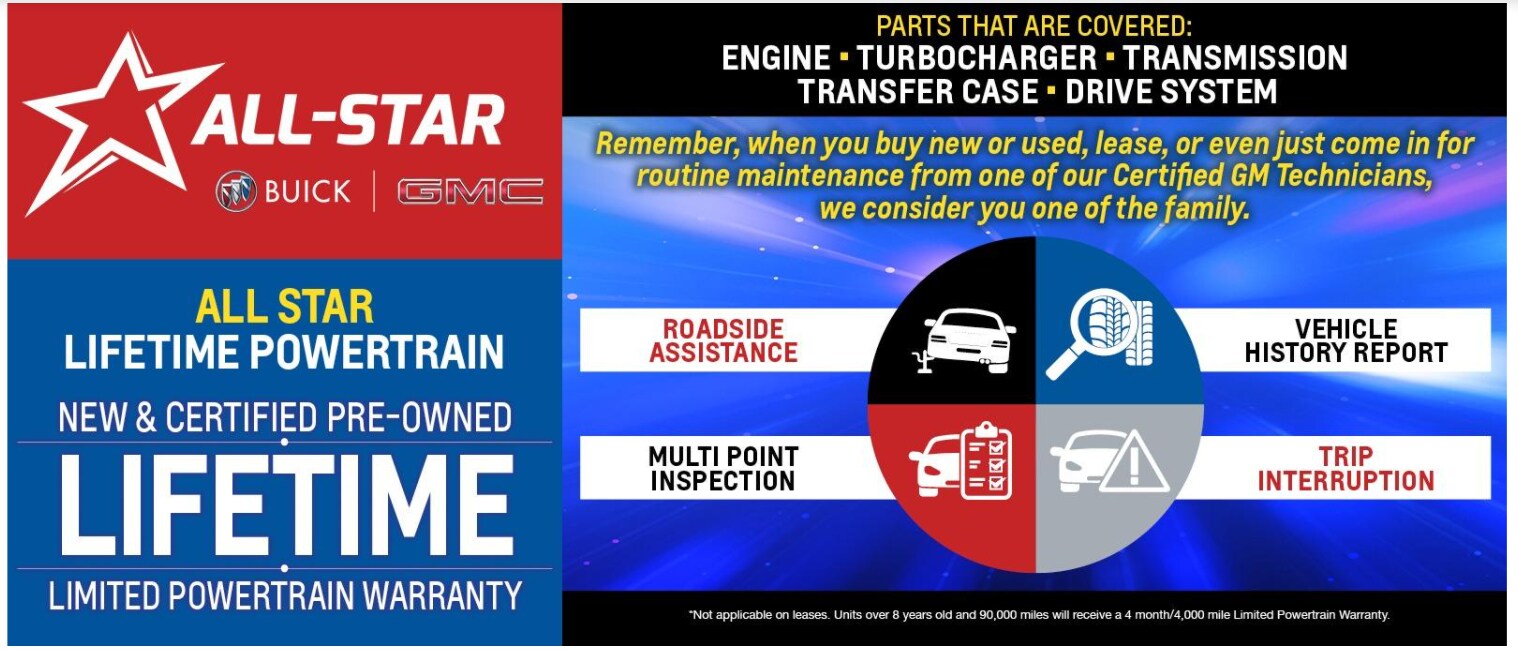 Enjoy Peace of Mind with All-Star Buick GMC's Lifetime Powertrain Warranty
Buying a new vehicle is an enjoyable experience, with so much to explore throughout the interior and exterior. However, some dealerships put you in the driver's seat and send you on your way, often without any added guarantees or protections. That's not the case when you shop new or certified pre-owned options at All-Star Buick GMC! We offer the All-Star Lifetime Powertrain Warranty for all new and CPO models, providing you added confidence as you hit the road and drive away!
Benefits of the All-Star Lifetime Powertrain Warranty
Regardless of what you visit our dealership, we always consider you one of the family. Our Lifetime Powertrain Warranty ensures that we always have your back, with several benefits to keep your vehicle protected after you leave our dealership. When you need routine maintenance, the Lifetime Powertrain Warranty covers the engine, any turbocharger, transmission, transfer case, drive system, and any of the parts associated with those systems. You'll also benefit from:
We're With You for the Long Haul
We're here to help you when wear and tear start to lower your vehicle's performance with the All-Star Lifetime Powertrain Warranty! We can help fill you in on more information if you would like to explore our new or CPO inventory today!
Why Buy New or CPO?
You deserve to have an exceptional performance from your vehicle, which is why we are happy to help you explore new and CPO inventories. There's nothing quite like a new vehicle, and with our CPO inventory, you get the added benefit of a rigorous inspection by our service team that ensures you only get the highest quality options. Backed by our All-Star Lifetime Powertrain Warranty, you get the added guarantee of protection after you leave our dealership! When it comes to your peace of mind, All-Star Buick GMC delivers!
How Can We Help?
* Indicates a required field